Bellingham High School

In Memory
Jane Fulton (Vlasic)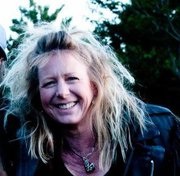 Jane "Janie" Vlasic, age 51, passed away Sunday, January 22nd, 2012 in Bellingham. Janie was born on November 5, 1960 and was raised in Bellingham, graduating from Bellingham High School in 1979. A ferocious, nationally ranked competition swimmer, Janie held every school record when she graduated. Playing in the band, and later the BHS Alumni Band, were great joys for Janie. After BHS, she attended Western Washington University and recently returned to Whatcom Community College where she resumed her education and quickly distinguished herself with a perfect 4.0 grade point average.
Janie lived fully, taking camping trips all over Washington and along the Sunshine Coast- connecting with her Canadian heritage, making custom jewelry, baking, hiking, fishing, and best of all, riding her Harley Davidson motorcycle on long rides in the county. She loved to host family gatherings, generously and tirelessly preparing way too much delicious food served with her hearty sense of humor. Meals, holidays, and parties were where Janie's gift of hospitality shined brightly.
Even though she earned fantastic grades, held swimming records, made cool jewelry, rode Harleys with the best, and could out host anyone, Janie's crowning achievement, her highest priority, her unrivaled passion, was being mother to the four kids she and Jeff shared: Jessica (20), Jacqueline (19), McKenzie (16), and Tanner (14). The parent leaning over the blocks, nearly in the pool, wildly cheering at her daughters' swim meets - that was Janie. Barely maintaining proper parental etiquette at her son's sporting events - that was Janie.
Fawning over fantastic art, creativity and singing, embarrassing each kid to no end - that was Janie. Janie loved, protected, cared for, and cherished all four children relentlessly, joyfully, and skillfully. It is for her devoted mothering that she will be the most truly missed.
Janie is also survived by her three brothers whom she loved and who loved her: Scott Fulton (Nancy), Mark Fulton, and Adam Fulton (Ann).